After she was rescued, Pirate the dog spent seven years of her life at the Oahu SPCA shelter, a nonprofit rescue organization that prevented cruelty to animals in Hawaii. People noticed her, but nobody was interested enough to afford her a chance to have a family.
Amanda Villame, executive Director of Oahu SPCA, said that Pirate's biggest obstacle to getting adopted was her age. Pirate was a senior dog, and people thought that old dogs were too much work and had too little time. Amanda was ready to believe that Pirate was to spend the rest of her life in the shelter.
Jennifer Hoyt and husband Dennis Shaffer, both US Army, got stationed in Hawaii. Jennifer planned to volunteer at a shelter as she wanted to adopt a dog but had agreed with her husband that they weren't going to get one until they were fully settled in their new home. Dennis wanted everything to be in order before they adopt a dog.
Eager to find a shelter to volunteer in, Jennifer browsed the internet to search and stumbled on the Oahu SPCA website. She looked at the dogs that were available for adoption and eventually scrolled to Pirate with her old gray face, and cutest ears, which stuck straight up. Above all, Jennifer got drawn to the sadness she saw on Pirate's face.
The next day, Jennifer went to the shelter to meet Pirate. Jennifer just had to go and meet this one special dog who seemed to have given up on life. When she told the shelter staff that she came for Pirate, all of the Oahu Staff were surprised.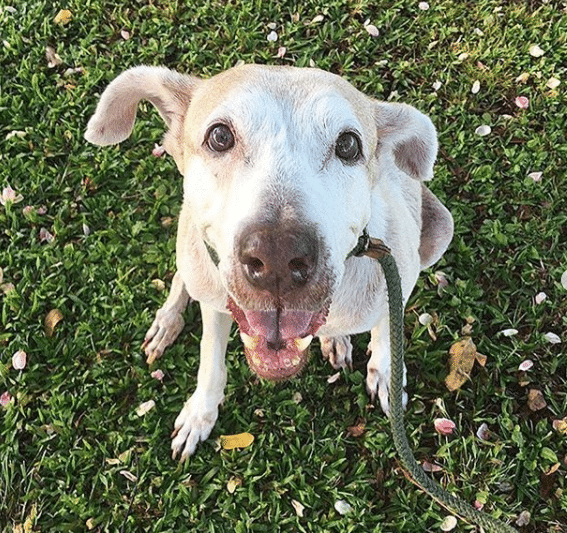 Staff told Jennifer how Pirate was passed up for years. At that moment, Jennifer knew she wanted to give Pirate the life she never had. She bought Pirate her first toy and a soft bed. Pirate and Jennifer's friendship and bond started from then on.
Jennifer visited Pirate at the shelter almost every day. After two months, Jennifer and Dennis finally settled in their new home. After a long wait, Jennifer could bring Pirate home.
When Pirate arrived home, she transformed into a completely different dog. She acted like a puppy, playful, and full of life every single day. They called her "old lady baby."
With Jennifer and her husband, Pirate experienced her many firsts, including her first time lying on the couch and playing at the beach. She also had a birthday celebration. Jennifer wanted to make every day special for Pirate. For Jennifer and Dennis, it doesn't matter how many years or days they have left with each other, what matters is that they make each day the best for all of them.
Images courtesy of Pirate Marie