Dogs not only make good companions, but they also serve as an excellent art muse. If you check some paintings from the olden times, you will see that a lot of artists were getting inspirations from dogs. The majestic stance of dogs is surely aesthetically pleasing.
People in modern times still get artistic inspiration from dogs. And one corgi puppy named Luna might just have become a model for her neighbor. A hedge was seemingly trimmed in her likeness, and people loved it!
Luna the art muse
A picture of Luna posing with a large hedge trimmed to look like her had gone viral on Twitter. Matt Cruise, the person who posted the picture, jokingly said that neighbors were apparently a big fan of Luna. The post had been liked 170,000 times since it was posted.
Matthew said that it was in his friend's neighborhood. He just happened to see a giant hedge that resembled the shape of his dog. So he thought that he would have Luna pose in front of it.
Obviously, Luna loved to strike a pose. Matthew said that the viral photo was no different. He said that at the moment, he thought it was a great photo op, so he couldn't help but have his pup pose in front of it.
People loved the artistic hedge
People online also saw the uncanny resemblance between Luna and the dog-shaped hedge. They were engrossed by the image, but some wondered if the person who trimmed the hedge was Edward Scissorhands. One user even shared a GIF from the movie that was referenced.
In the same Twitter thread, Matthew shared a link to an Instagram post that helped further the dog's viral status.
Because of the photo, people also shared pictures of their own corgis. Some of them even shared anecdotes about their pups.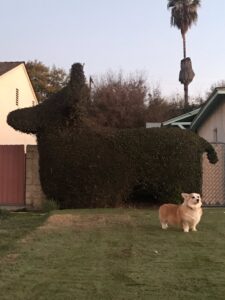 Image Source: Matt Cruise via Twitter